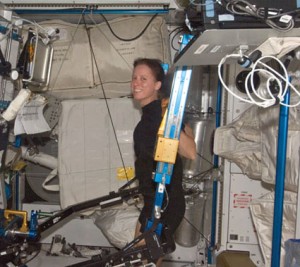 The six Expedition 24 crew members aboard the International Space Station continued their preparations for an upcoming spacewalk and worked on science activities Wednesday.
Flight Engineers Fyodor Yurchikhin and Mikhail Kornienko prepared equipment they will take out of the Pirs docking compartment and into space during a six-hour spacewalk scheduled to begin the evening of July 26. The
space walkers
will prepare the recently delivered Rassvet module with a Kurs automated rendezvous capability for future automated dockings by Russian spacecraft. It will be Yurchikhin's third spacewalk and the first for Kornienko.
Commander Alexander Skvortsov continued to unpack cargo from the ISS Progress 38 cargo ship that docked July 4.

In the U.S. segment of the station, Flight Engineers Tracy Caldwell Dyson, Shannon Walker and Doug Wheelock joined up for several hours to conduct eye examinations. After Wheelock set up and checked out the Health Maintenance System, they took turns as subjects for an eye examination scan executed by one of the others standing in as the Crew Medical Officer.

Walker also worked with the Smoke and Aerosol Measurement Experiment that measures the distribution of particle sizes in smoke from the on-orbit combustion of several materials found in the space station. The results will allow an evaluation of the performance of existing U.S. spacecraft smoke detectors.

Caldwell Dyson spent time with the Capillary Flow Experiment that investigates capillary action (the tendency of a liquid to rise in narrow tubes or to be drawn into small openings) in the absence of gravity. The findings will improve current computer models that are used by designers of low gravity fluid systems and may improve fluid transfer systems on future spacecraft.

Researchers can learn more about opportunities to develop and fly science experiments on the International Space Station (ISS) at the NASA ISS Research Academy Aug. 3-5 in League City, Texas.